Denton County Domestic Violence Attorney
Defense for Domestic Violence Charges in Texas
As with any criminal allegation, domestic violence charges in Texas have critical, long-term, and far-reaching consequences that could impact your future. Accusations can ruin your reputation and you can be labeled a violent person. If you are convicted of a domestic violence crime in Denton County, you can face penalties that include jail time, fines, and anger management courses.
If you have been charged with domestic violence, prosecuting attorneys can proceed with your case even if your accuser has recanted their claims. As such, it is vital to get the help of a knowledgeable Denton County domestic violence attorney as soon as possible. Choosing the right defense lawyers can make a difference in your case results.
Have you been accused of domestic violence? Schedule a case review to have our Denton County and Collin County defense attorneys evaluate the details of your case.
Domestic Violence in Texas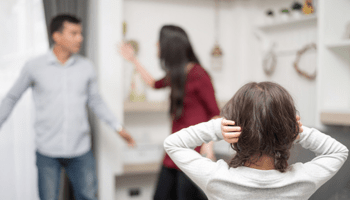 Domestic or family violence charges in Texas range from class c misdemeanors (the same level as a minor traffic offense), to felonies in other circumstances. The fact that some are charged as class c's doesn't diminish their importance and can act as a trap door.
A class C assault occurs where there is unwelcome offensive or provocative contact. The state does not need to prove the victim suffered any pain or discomfort whatsoever. They appear deceptively insignificant because they can be charged in smaller municipal courts and before justices of the peace where the rules are less formal and far fewer people have lawyers.
In class C domestic violence cases, the prosecution may try and add a small enhancement paragraph to the charge known as "an affirmative finding of family violence" under Texas Code of Criminal Procedure 42.013 and Texas Family Code 71.004. If the court enters this finding, even where the defendant gets deferred adjudication, then that finding can be used to enhance a future misdemeanor assaults all the way to a felony.
Domestic Violence Penalties in Texas
We understand that every domestic violence case is different and complex, which is why we are here to take on your specific case and fight for your rights. The severity of the penalties will vary depending on the circumstances of the criminal allegations you are facing.
In Texas, the penalties for a domestic violence charge can include:
Court-mandated protective order that lasts between 90 days and 2 years
Extensive fines and legal fees
Up to 1 year in prison for a misdemeanor conviction
Up to 10 years in prison for a felony conviction
Restriction from owning a gun
Understanding Domestic Violence Charges in Texas
Most domestic violence cases in Texas are charged as the Class A misdemeanor assault — where the state must prove some bodily injury (defined as any pain or discomfort). These cases can be very difficult for the state to prove. Often times the state will offer a class C deferred on the morning of trial if they feel badly about their case. Even in those instances, a person charged must be very careful because the affirmative finding may still be attached even though the charges reduced and getting a deferred adjudication
If you are charged with a class C assault where the alleged victim was a family member or someone in a dating relationship, you should strongly consider getting a Denton County domestic violence lawyer regardless of how minor the situation or circumstances. Even a class C conviction can haunt you for the rest of your life.
Call The Law Offices of Tim Powers for Domestic Violence Defense
At the Law Offices of Tim Powers, we work directly with you as our valued client to educate you on your charges and the possible defenses available. We can gather all of the evidence in your favor in order to fight as aggressively as possible to secure your freedom and future.
Our Denton domestic violence lawyers have decades of legal and business experience, and we understand that our clients value direct, accurate, and straightforward legal support every step of the way. If you have any questions, don't hesitate to call us to schedule a free, in-person consultation at your earliest convenience.
Time is a valued commodity in any criminal defense case, so don't wait to call our Denton County and Collin County domestic violence lawyer today!