Hayley M. Brown
Senior Attorney | Former Assistant District Attorney
Denton County Criminal Defense Lawyer | Collin County Criminal Defense Lawyer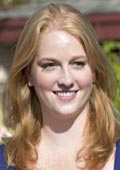 Though born in Texas, Hayley grew up in the Midwest. She graduated cum laude from Illinois Wesleyan University with a Bachelors degree in Political Science and Economics. She earned her Juris Doctor from the University of Iowa School of Law in 2011. While at the University of Iowa, Hayley was a member of the University of Iowa Trial Advocacy team and Jessup Moot Court team. Her experience with these teams helped refine her litigation skills.
Hayley's love of criminal law began her first summer break of law school when she interned with the Johnson County Public Defender's Office in Iowa City, Iowa. She continued to learn and develop her knowledge of criminal law her second summer of law school when she interned with the Clark County District Attorney's office in Las Vegas, Nevada. During her last year in Iowa, Hayley had opportunity to intern with the Lahammer Law Firm where she gained valuable knowledge regarding federal criminal defense.
After graduating law school, Hayley knew her roots lay in Texas and moved back the next day. While awaiting the results of the Bar exam, Hayley interned with the Galveston County District Attorney's office. She was then hired by the Denton County District Attorney's office. During the two years she spent with the Denton County District Attorney's office, Hayley tried numerous cases including DWIs, assaults, drug possession cases, thefts, and mental health commitments. In 2013, Hayley was voted Most Valuable Prosecutor of the misdemeanor division.
Hayley joined the Powers law firm in 2014, and looks forward to utilizing her knowledge of the Texas criminal system and her love of the courtroom to aggressively defend the citizens of Denton County.